"The Interweave of the
Near East and Chelsea"
In 2016 this exhibition at the Hudson Guild in New York City celebrated Chelsea's historic Near Eastern-American families in an Classic traditional art form from the ancient Near East.
In 1969 Stanley Bulbach moved onto West 15th Street in the west side Chelsea neighborhood in lower Manhattan while working on his academic degrees at NYU in History of Religion and Ancient Near Eastern Studies.
Of the 20 apartments in the 1886 "Old Law" tenement building into which he moved, about half were homes to Lebanese and Syrian families. Most of the families had economic roots in the local clothing, fashion and garment industry that flourished here when West 14th Street included not only Paterson Silks and Singer Sewing Machine's main showrooms, but also when Seventh Avenue was such a large garment center that it was officially nicknamed "Fashion Avenue."
Some of his Near Eastern-American neighbors worked in the United Nations. Some were Sunni or Shia Muslims and some were Orthodox Christians. Many other neighbors were European Spanish and Sephardic Jews whose families had worked in local shipping. Many were Greeks who worked in the local food and furrier businesses. They all lived and worked together, making this shared neighborhood a richer community and home for all.
Recently, "gentrification" and "hyperdevelopment" have replaced almost all of these families. What little is left of this rich heritage includes a few remaining local Maltese and Yemeni groceries, the Spanish Benevolent Society on 14th Street, and the Third Sephardic Cemetery on West 21st Street whose gravestones are slowly disappearing.
This is an art exhibition of some of the artist's impressions of New York as reflected in the ancient art form of those past neighbors.

All woven designs and photos on this webpage are copyright protected by Stanley Bulbach, All Rights Reserved.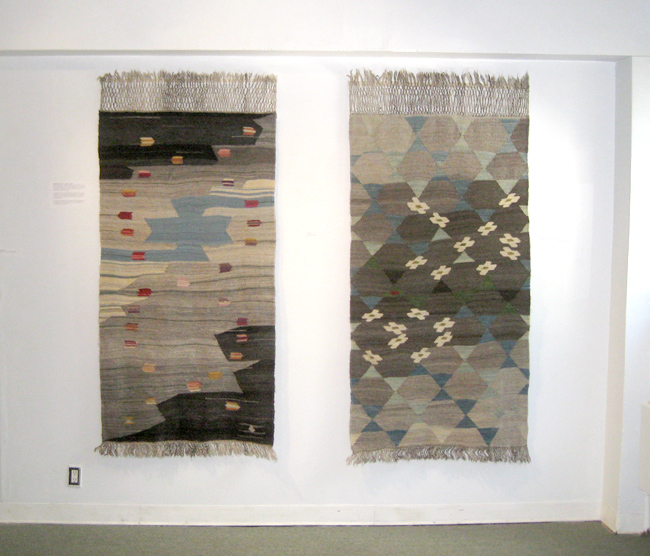 Above right: Third Sephardic Cemetery, a carpet bed inspired by West 21st Street's historic cemetery and gravestones from New York City's early Sephardic Jewish community.
Above left: Nieuw Amsterdam, a prayer carpet inspired by the City's Dutch founders, and today's avenues and streets with their new luxury towers.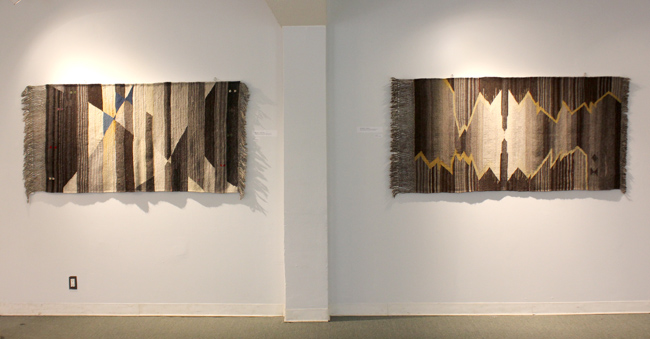 Above left: Sixth Avenue, a prayer carpet for sunrise and sunset on the midtown glass tower-lined avenue known to tourists as Avenue of the Americas.
Above right: Heat Lightning, a carpet bed imparting an oppressively hot summer night on a NYC avenue.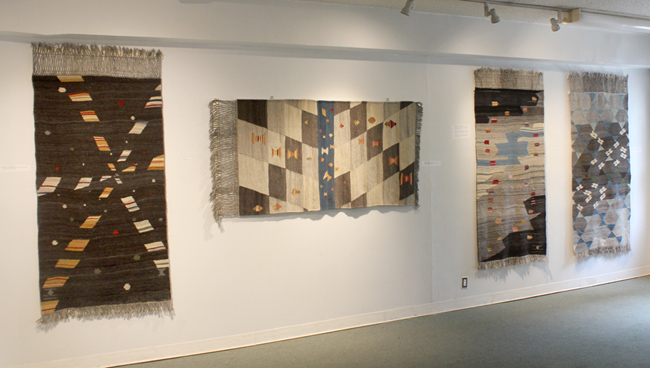 Above left: Times Square, a flying carpet for reflecting the traffic and bright lights and windows all converging in this hectic crowded center of business, theater, and tourism.
Above second left: September Passages, another flying carpet tracking the monarch butterflies in their metamorphic cycle of life and transfiguration as they migrate south through New York City's canyons of glass and stone towers.
The residential neighborhood of Chelsea was historically related to the fashion and textile industries. New York's famous Garment Center, on Chelsea's northern border, is now slowly disappearing. Most new residents are no longer familiar with the nature and importance of the fibers and textiles in this neighborhood's history.
Similarly, most people are now unaware how modern computer technology evolved from earlier loom and weaving technology.
For example, IBM hole-punch cards of the 20th Century evolved from the similar cards used by the 19th Century's Jacquard looms that mechanically produced complex woven structures and designs; and the modern digital image technology evolved from the photochemical industries that arose in the 19th Century to develop synthetic dyes to replace traditional vegetal dyes.
Detail: Art Director Jim Furlong (left) and Stanley Bulbach
The Hudson Guild, founded in 1807, is a multi-service community agency serving those who live, work, or go to school in Chelsea, with a focus on those in need.
The Hudson Guild's mission is to create and sustain a strong, effective community that acknowledges and responds to the potential, achievements and interdependence of its diverse members. Rooted in and primarily focused on the Chelsea neighborhood, the Hudson Guild seeks to empower all individuals and families to achieve their highest potential, while maintaining a priority focus on those in economic need.
Chelsea is a neighborhood on the lower west side of Manhattan between Greenwich Village to its south and Clinton or Hell's Kitchen to its north. Originally, the area was the farm of Clement Moore, the purported author of "T'was the Night Before Christmas".
The neighborhood's economic activity was also linked to shipping on the Hudson River on Chelsea's western boundary.
The above prayer carpet, The Hudson, celebrates both the Hudson Guild and Chelsea's connections to the Hudson River, and was created specially for the Hudson Guild's exhibition.
The woven stripes draw attention to the great river's rippled surface, as well as to the reflections on it of the skyline's tall buildings, and holiday fireworks and/or the sun. And the woven design includes references to the river's wildlife including eels, fish, and turtles which were esteemed by some of the Lenapi clans who summered, fished and farmed at Sapokanikan, which is where West 15th Street meets the Hudson's shoreline.
"Arts at Hudson Guild" is supported in part by public funds from the National Endowment of the Arts, New York State Council of the Arts, New York City Department of Cultural Affairs in partnership with the City Council. Additional support provided by The Beacon Group, Milton and Sally Avery Foundation, Susan & Tony Gilroy, Emily Meschter & Jolie Stahl.
| | | |
| --- | --- | --- |
| | | |