New York University's Richard Ettinghausen Library, Bulbach, and Crisantemi
Photo: ©Dan Franklin Smith
"Interwoven Over Millennia:
East, West, Ancient and New"
Among the primary influences underlying Bulbach's textile art are the Manhattan neighborhood in which he lives and his academic achievements.
For most of the 20th Century Chelsea was home to a number of tight-knit ethnic communities not the least of which were its Syrian-Lebanese families. Chelsea was also where New York City's first "block associations" arose, building upon the strength of the ties connecting families in the neighborhood.
Bulbach's B.A. in History of Religion (1969) was followed by an M.A. (1972) and a Ph.D. (1981) in Near Eastern Studies, all at New York University at Washington Square in neighboring Greenwich Village.
In 2019, NYU's Hagop Kevorkian Center for Near Eastern Studies invited Bulbach to return and mount an exhibition of his textile art in its Richard Ettinghausen Library.
In addition to being an exhibition for its students, faculty and local community, the center was was hosting a number of conferences on Near and Middle Eastern art history for scholars from across the country.
Unless otherwise noted, all woven designs and photos on this webpage are copyright protected by Stanley Bulbach, All Rights Reserved and all photos taken by same.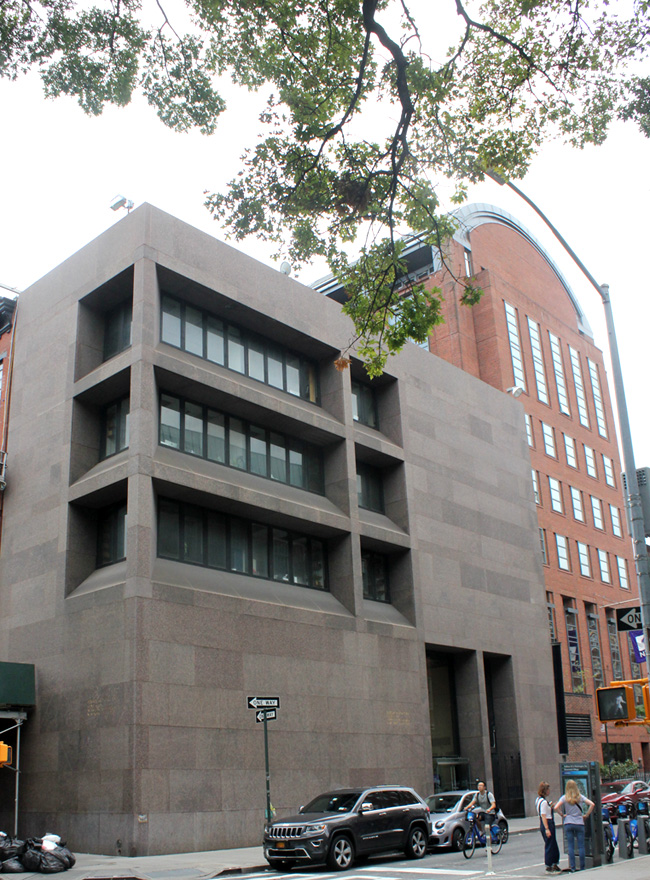 Designed by architect Philip Johnson, the Hagop Kevorkian Center is on Washington Square South. It is the home of NYU's Middle Eastern studies program.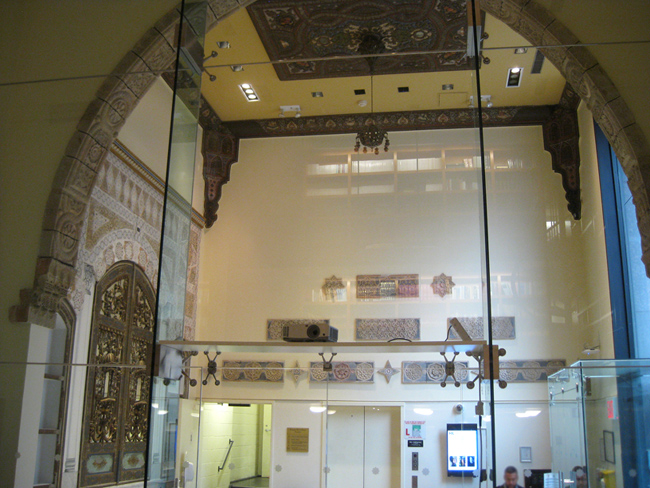 For the lower half of the building the designer, Turett Collaborative, and the university incorporated architectural elements from the Quwwatli Family residence in Damascus, which was originally built in 1797 almost a quarter of a millennium ago. This interior space is a breathtaking historical recreation.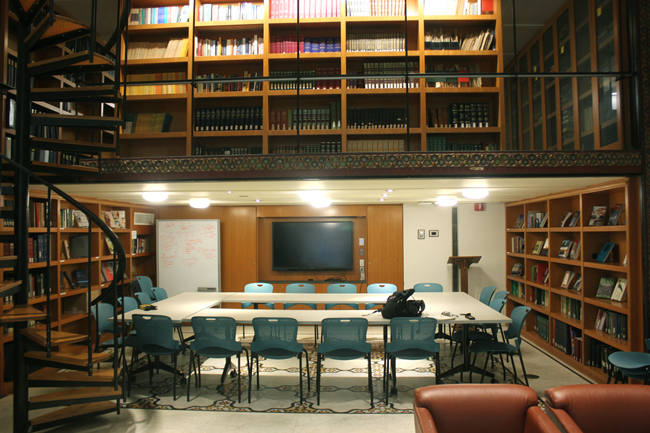 In that bottom half of the center lies the Richard Ettinghausen Library, half of which is a high-ceiling atrium. The other half is a meeting space topped by two levels of library holdings. It was a space where lots of activity occurs, not much free wall space left, and lighting was not originally designed for exhibiting visual art.
But as challenging as the site was to mount an exhibition, the library was the perfect setting for Bulbach's textile art inspired by the ancient Near and Middle East.
The Library's lower balcony provided the perfect opportunity to mimic a traditional dyers' souk in Morocco to display the original materials prepared for the weaving of the textile art in this exhibition.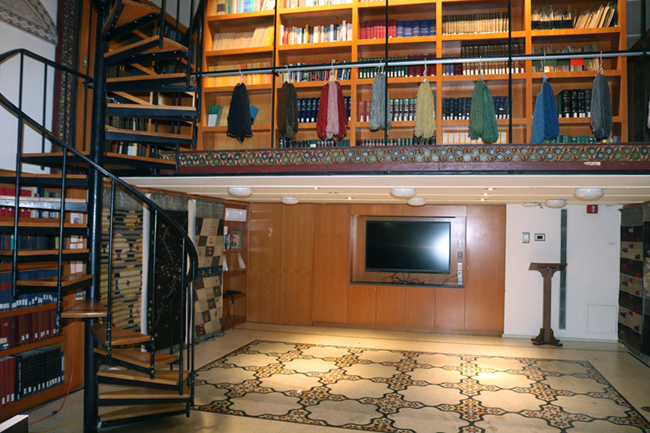 The temporary installation of whiteboard created the vertical surfaces upon which to mount the exhibition of eight flatwoven carpets. The historic mosaic floors and the surrounding textile art harmonized with each other eloquently.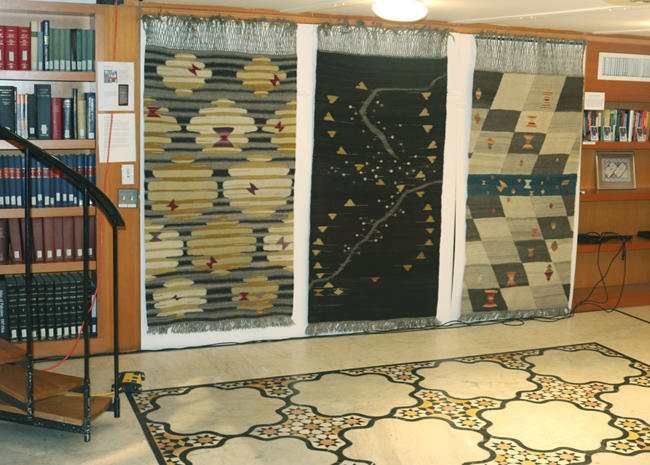 On this side were Crisantemi, Ginkgoes, and September Passages. Crisantemi in particular seemed to participate in a dialogue with the Damascene tiled floor.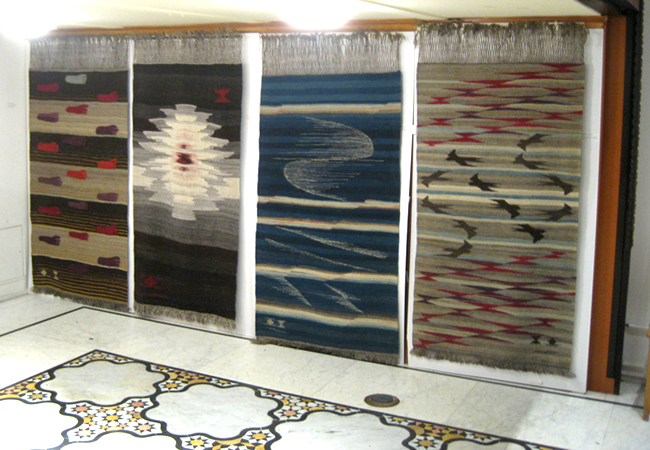 And on this other side were Messengers, Peony, and Sheet of Ice, and Sumac Auspices.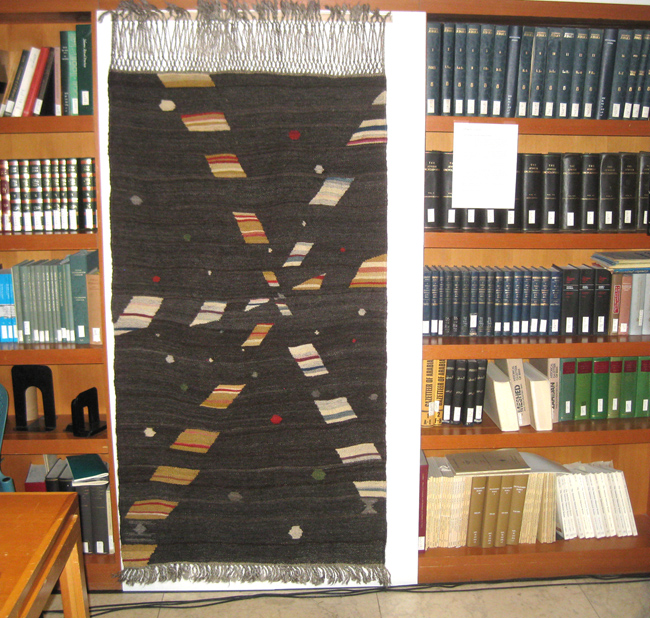 And in the last remaining free space, was Times Square, highlighting New York City's prior role as the "crossroads of the world," and a unique international intermingling of arts, commerce, cultures, eras, histories, peoples, philosophies, politics, religions, and studies.
This small exhibition was a gem. First, NYU was inviting Bulbach to return to his academic roots where he first pored over the ancient histories, languages, and cultures that gave rise to our later Western civilisations and technologies.
Second, it was a rare opportunity for the public to see the unique "canvas" used by the artist in a stunning original cultural setting.
Third, it maintained the memory of an important part of the ethnic richness of his New York City neighborhood, Chelsea, a diversity that is rapidly disappearing.